PokerStars PIN
What is a PokerStars PIN?
A PokerStars PIN' is a six digit number that is issued by PokerStars, in addition to your password. Once a PokerStars PIN is set for your account, you will be required to enter your PokerStars PIN number by clicking on an on-screen keypad, every time you login.
Each time you try to login to your PokerStars account, the numbers will change position. That will stop most keyloggers from recording where you click and what buttons you press and help to protect the security of your account.
The use of the PokerStars PIN also enhances account security by providing an additional validation number, which would prevent you from being exposed to certain types of 'phishing' and 'social engineering' scams.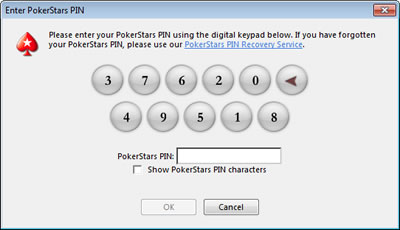 The numbers on the on-screen keypad change position every time you login.