Play Poker for Real Money Using WebMoney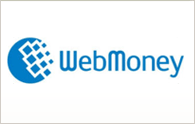 What is WebMoney?
WebMoney is an online payment system that allows you to transact with other WebMoney users or merchants, in a number of currencies.
Registered users manage their account using one of 2 free tools:
WM Keeper Classic is standalone software installed onto your computer. To see what the software looks like, and how it works, visit the WM Keeper Classic page on the WebMoney site.*
WM Keeper Light does not require software installation. You transact using an internet-browser, through a secure https connection. It is designed for clients who cannot or do not want to install the WM Keeper Classic. To use WM Keeper Light all you need to do is install a WebMoney Transfer personal certificate and start your browser.
Please also visit the Help Desk page of the WebMoney site to see demonstrations of how to register and manage your WM Keepers, as well as how to send and receive transfers.
Once you've registered and verified your account with WebMoney, you are free to create purses (dedicated currency-specific electronic wallets) within your WebMoney account. Purses can be created in any or all of the following currencies: RUR, USD, EUR, UAH, BYR and UZS.
You are now able to transfer funds from any of your purses to other WebMoney users and merchants – all you need is their purse number.
Please note that PokerStars only supports USD Webmoney purses at this time.
For more information, please visit the WebMoney website.
How do I load my WebMoney purse?
There are a number of ways to load your WebMoney account (e.g. bank wire, prepaid cards, cash exchange).
Please see Adding Funds for a list of funding methods available for your purse type and country.
How can I make purchases at PokerStars using WebMoney?
If you do not yet have a WebMoney account, please visit the WebMoney website to register an account and install a WebMoney Keeper. Alternatively, you can use a pre-paid WM-card, Paymer cheque or WM-note to fund your PokerStars account directly.
WebMoney is fully integrated via the PokerStars Cashier screen. When you click on "Cashier" and then on "Buy Chips", you will see an option to use WebMoney. Please click on the "WebMoney" button and then on the "Deposit" button. The WebMoney deposit screen will be displayed. Enter the "Charge Amount" (as well as the bonus code if you have one) and click on "Submit". In the "Direct Payment on Merchant Purse" screen, please click on the "Pay" button and follow the on-screen instructions to complete your deposit.
Important: Do not use the hyperlinks at the bottom of the "Direct Payment Merchant Purse" page to make your transfer.
Please keep in mind that you have 10 minutes to complete your deposit. If you exceed this time, the transaction will timeout and will be cancelled. You will need to start again by selecting WebMoney from the PokerStars Cashier's Deposit Options screen.
For current WebMoney purchase limits, please visit our Cashier.
What about my cashouts?
You may use your WebMoney purse to cash out any amount above the deposits that you have made with any other deposit method. You would need to make at least one purchase with WebMoney to be able to cashout to it.
How do I withdraw money from WebMoney?
There are a number of ways to withdraw funds from your WebMoney account (e.g. bank wire, bank cash-desk, bank card).
Please see Withdraw Funds for a list of withdrawal methods available for your purse type and country.
How does the exchange rate conversion work?
As all transactions between WebMoney and PokerStars are limited to USD, you will need to hold a funded USD purse (i.e. Z-purse) to transact.
If you don't have a Z-purse, you can easily create one from within your WM Keeper. (The WM Keeper Classic page has a demonstration on how to do this.)
If your Z-purse is not funded, you can use WebMoney's exchange services to convert funds from one of your other currency purses into your Z-purse. See the WebMoney FAQ page for details on how to do a currency exchange. Please note, that you will be charged a fee to do this (see below).
PokerStars uses the prevailing mid-market rate provided by XE (plus a small fee if applicable) to convert your deposits to your PokerStars account currency. For additional information, please read our Real Money Transaction Processing and Currency Conversion Terms and Conditions.
What will it cost me to use WebMoney at PokerStars?
WebMoney charges a 0.8% fee, of no less than 0.01WM, for transferring funds. (WM Units have a 1:1 relationship with the currency of your purse. Therefore, 0.01WM in a USD purse is equal to USD$0.01.)
The maximum transaction fee for a USD purse is 50WM.
There is no charge for cashing out funds from your PokerStars account to your WebMoney account.
For detailed information on fees, please visit the WebMoney Fees page
If you have any further queries, please feel free to contact us support@pokerstarscasino.eu