Play Poker for Real Money Using VISA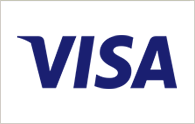 How can I make purchases at PokerStars using VISA / VISA Electron?
VISA purchase is fully integrated via the PokerStars cashier screen. When you click on "Cashier" and then on "Buy Chips", you will see an option to use VISA. Click on the VISA button and enter the required information, including the currency and amount you wish to deposit.
For added security, a Card Verification Number (CVN) is required. The CVN is a 3-digit number located on the back of the card, above the signature.
When you click 'Submit', your request will be submitted to your bank servers via one of our processors and you will receive confirmation in about a minute. Purchase transactions are identified on your credit card statement as POKERSTARS.
Please note that if you are transacting with PokerStars in a currency other than your card currency, your card issuer will apply their own exchange rate and fee to the transaction. Customers are therefore advised to check exchange rates and fees with their issuers.
Can I make 'Fast Deposit' purchases using my VISA card?
The 'Fast Deposit' feature is available for VISA deposits. 'Fast Deposit' is a quick and convenient way to fund your PokerStars account using your preferred payment method. Once setup, you will see the 'Fast Deposit' button when playing in cash games, allowing you to review and submit transactions directly from the table.
Learn more about PokerStars Fast Deposits.
Customers are recommended to print all transaction data, rules, etc for future reference.
Should you require any assistance, please contact us.
What are the deposit limits for VISA?
Please visit the cashier for your current deposit limits.
What about my cashouts?
You may use a CFT eligible VISA card to cashout your funds providing you have made at least one previous purchase using your card within the past 12 months since June 1, 2014.
Please be aware that cashouts are automatically credited back to any VISA account that you have used to make deposits in the past 12 months.
PokerStars will convert your cashout to the currency your previous deposit was processed in, before being sent to your card.
Please note that additional eligibility criteria may apply to automatic CFT eligible VISA and Entropay cashout options.
Please visit our cashout policy for full information.
How does the exchange rate conversion work?
PokerStars uses the prevailing mid-market rate provided by XE (plus a small fee if applicable) to convert your deposits to your PokerStars account currency. For additional information, please read our Real Money Transaction Processing and Currency Conversion Terms and Conditions.
What will it cost me to use VISA at PokerStars?
PokerStars does not charge any other fees for using VISA cards. Players are responsible for any fees charged by their card issuer.
If you have any further queries, feel free to contact Support.