Play Poker for Real Money Using paysafecard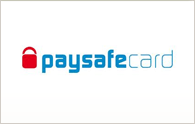 What is paysafecard?
paysafecard is Europe's leading prepaid internet payment product. You can use paysafecard to make swift and trouble-free payments via the internet without divulging a credit card number or personal account details.
paysafecard is easy:
Buy a paysafecard
Select paysafecard as the "payment option"
Type in your PIN-code - done!
For increased security of your paysafecard pin, you can choose to create a password for your paysafecard.
You can obtain a paysafecard throughout Europe from thousands of retail outlets. Please click here to locate a sales outlet.
How can I make purchases at PokerStars using paysafecard?
paysafecard is fully integrated via the PokerStars cashier screen. When you click on "Cashier" and then on "Buy Chips", you will see an option to use paysafecard. Click on the paysafecard button and you will be presented with a deposit screen, where you can choose the currency and the amount of your deposit. The equivalent US$ amount will be automatically displayed. If you are going to combine paysafecard vouchers, please enter the combined amount of your vouchers (*). Click 'Submit' to open a browser window that will allow you to enter your paysafecard PIN(s) and authorize your purchase at PokerStars. You have 10 minutes to complete paysafecard authorization or your session will expire. Once you authorize the purchase, please return to Cashier and follow the on-screen instructions to complete the deposit transaction.
You can use up to ten paysafecards for any single payment transaction that exceeds amount of credit on a single paysafecard card.
(*) Note: The feature that allows you to combine paysafecard vouchers is temporarily unavailable for paysafecard vouchers issued in Germany. To make a deposit using paysafecard vouchers issued in Germany, please use only ONE paysafecard voucher per transaction.
What are the deposit limits for paysafecard?
Please visit the cashier for your current deposit limits.
How does the exchange rate conversion work?
PokerStars uses the prevailing mid-market rate provided by XE (plus a small fee if applicable) to convert your deposits to your PokerStars account currency. For additional information, please read our Real Money Transaction Processing and Currency Conversion Terms and Conditions.
What will it cost me to use paysafecard at PokerStars?
There are no fees for using paysafecard at PokerStars. Players are responsible for any fees charged by paysafecard.
If you have any further queries, feel free to contact us
support@pokerstarscasino.eu.