Play Poker for Real Money Using NETELLER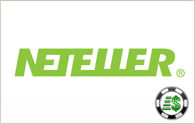 Please note that PokerStars does not support 1-Pay in Taiwan.
What is NETELLER?
NETELLER is a secure site where you can open a free account and then transfer funds from your bank account, credit card or via wire transfer.
Once you open your NETELLER account, you can deposit, withdraw and transfer funds to the many merchants which accept NETELLER online payments, including PokerStars. Visit www.NETELLER.com to sign up for a free account.
NETELLER offers easy and highly secure online signup and transfers, and provides 24/7 support via email, live chat and telephone. Click here to learn more about NETELLER.
Why should I use NETELLER?
NETELLER allows you to easily and quickly transfer funds to and from a growing number of online sites. Once you establish and confirm your NETELLER account, it takes only seconds to make transfers to your PokerStars account - and it's free to set up and use at PokerStars.
PokerStars account - and it's free to set up and use at PokerStars.
NETELLER is a highly secure and widely used means of transferring funds on the Internet. It utilizes Secure Socket Layer (SSL) and 128-bit encryption keys, the highest browser encryption available anywhere online. All of your information is stored behind a secure firewall. Click here for more information about NETELLER's security.
How do I fund my NETELLER account?
There are a number of ways to fund your NETELLER account. Please click here to learn more about the available funding options.
How do I make purchases at PokerStars using NETELLER?
Deposit funds into your NETELLER account using one of the above funding options, then transfer the funds into your PokerStars account through the PokerStars Cashier.
All NETELLER deposits are processed through the 'Cashier' button in the PokerStars lobby. To make a deposit, simply login to your PokerStars account and click the 'Cashier' button, then select 'Buy Chips'.
Next, click on the 'NETELLER' button, enter your NETELLER Account ID and Secure ID, then the amount you wish to deposit.
Can I make 'Fast Deposit' purchases using NETELLER?
The 'Fast Deposit' feature is available for NETELLER deposits. 'Fast Deposit' is a quick and convenient way to fund your PokerStars account using your preferred payment method. Once setup, you will see the Fast Deposit button when playing in cash games, allowing you to review and submit transactions directly from the table.
Learn more about PokerStars Fast Deposits .
What are the deposit limits for NETELLER?
Please visit the cashier for your current deposit limits.
What about my cashouts?
You may cashout funds from your PokerStars account to your NETELLER account.
Please be aware that cashouts are automatically credited back to any VISA account that you have used to make deposits in the last 12 months, before being credited back to your NETELLER account.
Please visit our Cashout Policy for full information.
How does the exchange rate conversion work?
PokerStars uses the prevailing mid-market rate provided by XE (plus a small fee if applicable) to convert your deposits to your PokerStars account currency. For additional information, please read our Real Money Transaction Processing and Currency Conversion Terms and Conditions.
What will it cost me to use NETELLER at PokerStars?
There are no other fees for using NETELLER at PokerStars. Players are responsible for any fees charged by NETELLER.
If you have any further queries, feel free to contact us at support@pokerstarscasino.eu