Play for Real Money Using iDebit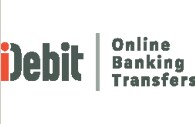 What is iDebit?
iDebit is a secure online payment method that can be used to make instant deposits directly from your iDebit account or your bank account. 
Our payment processing partner will complete the transaction with your bank on your behalf.  Your banking credentials will not be stored. All communication to your bank is encrypted for additional security.
When making your payment, you can either checkout as an iDebit guest or sign up for/log in to your iDebit account. 
How can I make purchases using iDebit?
iDebit is fully integrated via the Cashier screen. After selecting your deposit amount and proceeding with the transaction you will be redirected to a browser window that will allow you to authorize the iDebit transaction from your bank account or, from your iDebit account (if you hold a balance equal to or greater than your deposit request) to your account with us. You have 10 minutes to complete this process; otherwise your session will expire. Once you authorize the transfer, please return to our Cashier and follow instructions to complete the deposit transaction.
What are the deposit limits for iDebit?
Please visit the Cashier for your current deposit limits.
What about my cashouts?
Currently it is not possible to cashout your funds through iDebit. Please visit our Cashout Policy for information on your cashout options.
How does the exchange rate conversion work?
What will it cost me to use iDebit?
We do not charge a fee for using iDebit. When you deposit via iDebit using your online banking, iDebit will charge you a fee which is added to the deposit amount requested in the Cashier.  Players are responsible for any fees charged by their banks or iDebit.  For further details on iDebit fees click here.