Wire Transfer Cashout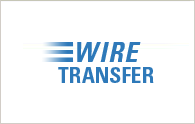 What is a Wire Transfer cashout?
A Wire Transfer is a cashout method that allows you to receive your winnings by having them credited directly to your bank account. These are processed as international wires by our payment processors.
Please visit the Cash out Screen in the PokerStars Cashier to find the Wire Transfer currencies and limits available to you.
How can I make cashouts from PokerStars using Wire Transfer?
To make a cashout via Wire Transfer, login to your PokerStars account, click the 'Cashier' button and select 'Cash out'. Enter your cashout amount and choose the 'Wire Transfer' option on the Cash out screen. You will then be asked to enter and subsequently confirm information about your bank account. Once your bank account details have been submitted, you will be brought back to the Cash out screen to submit your 'Wire Transfer' cashout request.
Only your bank account details are required; intermediary bank information should not be included in the Wire Transfer form.
Note: Wire transfer cashouts can only be sent to a bank account registered in your name and your bank country must match the country registered in your PokerStars account.
It may take up to 72 hours for PokerStars to send your cashout for processing and another 2-5 business days for funds to be credited to your designated bank account.
What bank account information is required to process a Wire Transfer?
Please click here for more information about the required bank details.
How does the exchange rate conversion work?
PokerStars uses the prevailing mid-market rate provided by XE (plus a small fee if applicable) to convert your deposits to your PokerStars account currency. For additional information, please read our Real Money Transaction Processing and Currency Conversion Terms and Conditions.
What will it cost me to do a Wire Transfer cashout at PokerStars?
There are no fees for using 'Wire Transfer' to cashout at PokerStars. Players are responsible for any fees charged by their bank or intermediary bank (if applicable) for receiving wire transfers. For more information on your bank's policy concerning fees for receiving international wire transfers, please contact your bank directly.
If you have any further queries please feel free to contact Support.