Instant Bonuses - General information
An Instant Bonus is not the same as a regular cash bonus. Instant Bonuses credit funds to your account immediately which can be used only at eligible Casino games. Whenever you have received an Instant Bonus your goal is to earn an amount of redemption points at the eligible Casino games before the bonus expires. As soon as the redemption points goal is met, the remaining bonus (plus any winnings) is converted to real money.
Until the redemption points goal has been reached, the bonus cannot be used outside of the eligible Casino games, nor can it be withdrawn.
Your active Instant Bonus progress can be tracked through the following menus:
Desktop software

My Stars → Bonuses → Instant Bonuses
Mobile app

My Stars → Bonuses
Web software

Account → My Stars → Bonuses
Here, you can also find additional details, such as eligible games, the expiry date, and the options to surrender (give up) your bonus or pause it.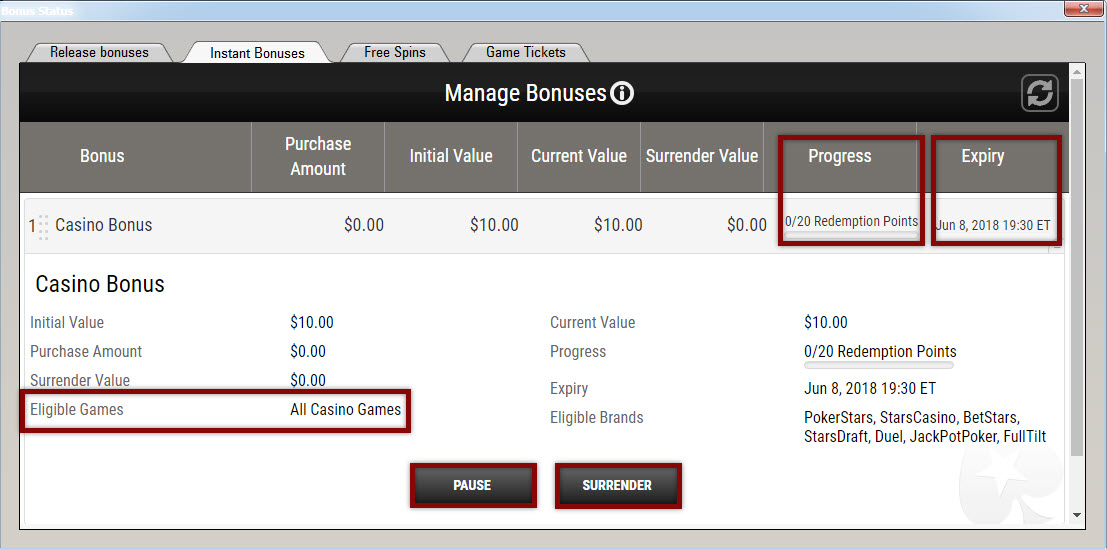 Feedback
Did this article answer your question?