History of Slots
Slot Machines in Popular Culture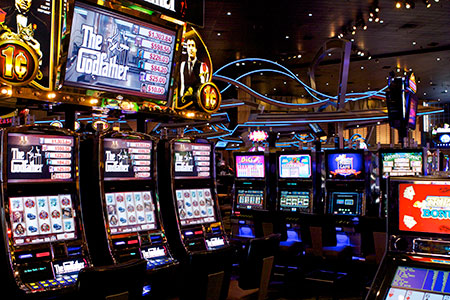 Most casino games have appeared in popular culture through references in songs, movies, plays, and TV shows. This is true for slots but it has also spawned a reverse phenomenon: slot machines based on elements of popular culture.
In 1997, International Game Technology (IGT) began the modern trend toward slots based on themes from popular culture. Its Wheel of Fortune machines licensed the popular American TV game show of the same name and its bonus feature incorporated the images and sounds from the show. It also began licensing celebrity likenesses with its series of Elvis slots, starting in 1998.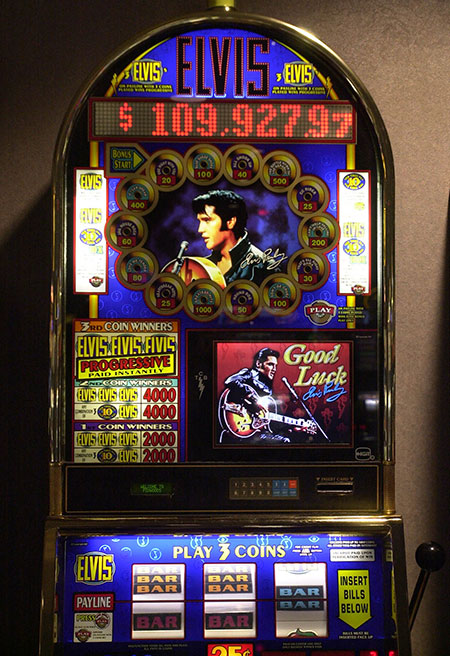 Casino slot machines all over the world draw on the most popular references from celebrity culture. Wheel of Fortune has led to slots based on TV game shows like Jeopardy, American Idol, Amazing Race, Price is Right, Who Wants to be a Millionaire, and Deal or No Deal. Movies have also spawned their own slots, including such diverse titles as Forrest Gump, The Good the Bad and the Ugly, Sex in the City, Scarface, Star Trek, Star Wars, Legally Blonde, Rocky, and Avatar. Celebrities have followed Elvis onto slot machines, including Marilyn Monroe, Elton John, Dolly Parton, Michael Jackson, Andre the Giant, and Bruce Lee. Italian jockey Frankie Dettori's 'magnificent seven' victory rides in one day at Ascot has led to the Frankie Dettori Magic Seven machine. There are Hulkamania slots, slots for 'The Hoff' (David Hasselhoff), and slots themed from talk show host Ellen DeGeneres.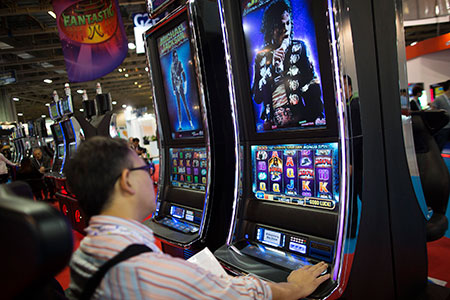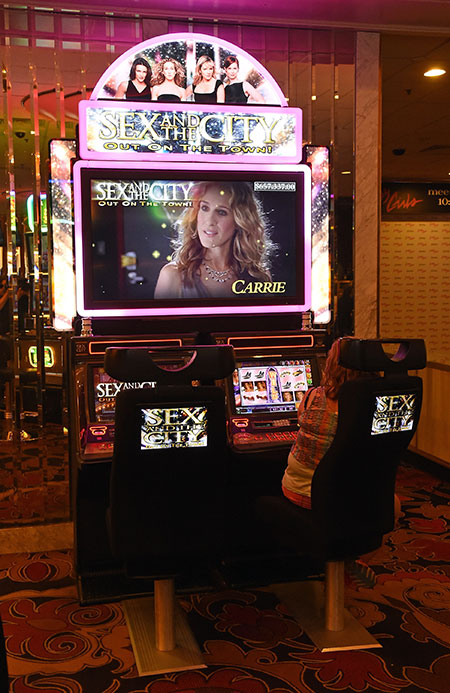 Slot Machine Technology
Traditional Mechanical Machines
Slot machines worked essentially the same way from their invention at the end of the 19th century until the early 1960s. First, the player inserted a coin. That coin unlocked the handle at the side of the machine. Second, the player pulled the handle, which started the reels spinning. Third, the reels, which contained a series of symbols, stopped in sequence. (An early innovation was stopping the reels in sequence from left to right. This assured players that the wheels spun independently and heightened the suspense about the outcome.) Fourth, perforations in plates inside the spinning wheels corresponded with the symbols. When they stopped on a winning combination, the perforations lined up in a fashion that triggered a coin side paying the winning amount.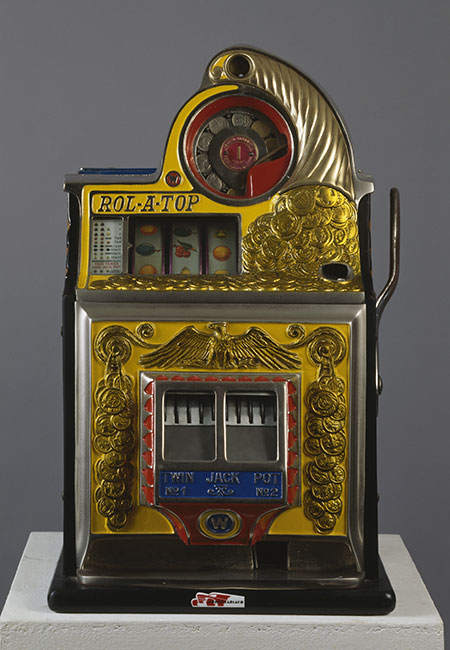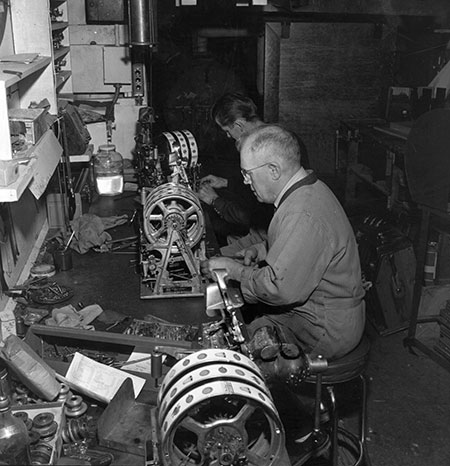 The standard three-reel machine initially had 10 symbols on each reel, creating 1,000 possible combinations. (10 times 10 times 10.) Another early innovation was the 20-symbol reel. With 20 stops per reel, a three-reel machine could land on 8,000 combinations (20 times 20 times 20), offering a greater variety of winning combinations of differing payouts.
Electronic Machines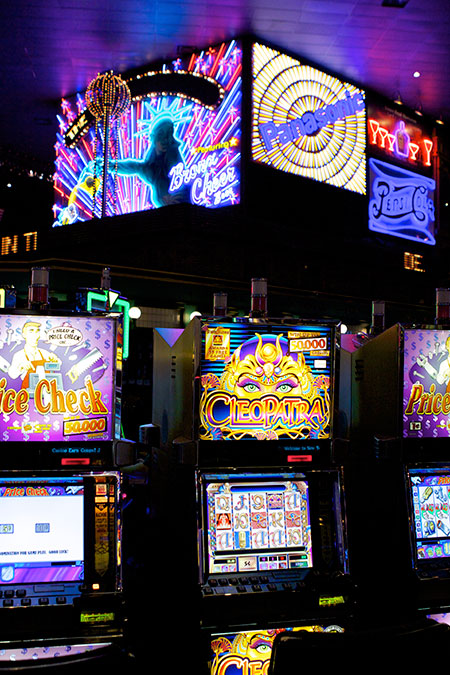 During the 1960s, Bally Manufacturing (starting in 1963 with a slot machine called Money Honey) led manufacturers in introducing electronic features in slot machines: random number generators (RNGs) rather than manually rotating wheels, multi-coin and multi-line play, and video display screens. Virtually all machines, including those that appear to have spinning reels, now use this more precise technology. After the player inserts coins (or, more likely, paper currency or a ticket representing a cash value in credits), the player selects the number of credits to play. At the moment the player presses the button on the machine's surface (or pulls the handle that some machines also include), the game processor translates the RNG into the symbols that appear.
Once the symbols appear, whether by video screen or mechanical reels programmed to land in correspondence with the RNG, the machine pays out winning combinations.
The electronic machines have transformed slots, while retaining the ceremony and tradition that made the games popular. First, although the RNG determines the outcome in an instant, the program can replicate the visual and even audio experience of the traditional machine. Second, the RNG makes possible billions of combinations, allowing manufacturers to offer gigantic payouts on multi-coin progressive machines like Megabucks in Nevada, USA. Third, coins are disappearing in favour of TITO (ticket-in, ticket-out). Instead of carrying rolls of coins, buckets, gloves, and hand sanitizer, players can insert tickets representing cash or currency. The slot machine then accumulates and dispenses credits based on play. When players are finished, they receive redeemable tickets for the remaining credits.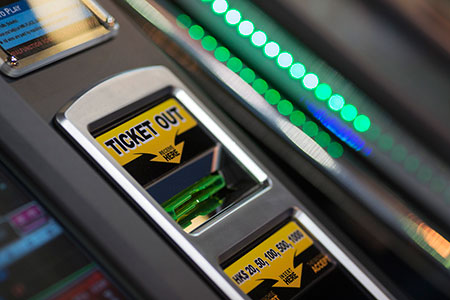 Famous Slot Jackpots
The first famous slot machine was Charles Fey's Liberty Bell in the 1890s. Its maximum payout, for lining up liberty bells on all three reels, was 20 coins. By 1900, the machines designed by Herbert Mills could pay out up to 100 coins, dispensing them through a tube one at a time. The first modern slot machine, Bally Manufacturing's Money Honey in 1963, featured electronics and a hopper that could hold 2,500 coins. The development of progressive jackpots in the 1980s increased the popularity of slot machines and, by linking payouts between machines, the size of slot jackpots. The most popular progressive slot machine, Megabucks by International Gaming Technology (IGT), introduced in 1986, has been responsible for many of the biggest payouts from slot machines. When a player inserts the three-coin maximum and the each reel stops on the Megabucks logo, that player wins the accumulated jackpot.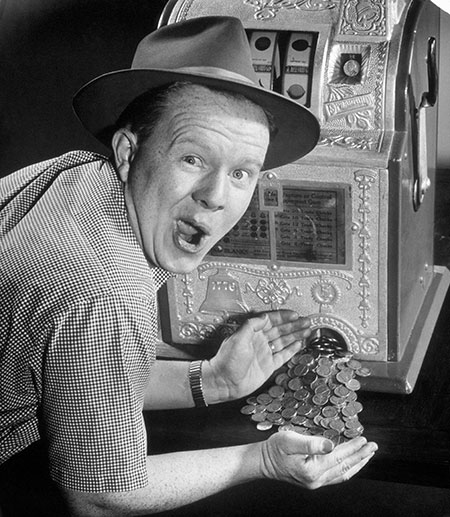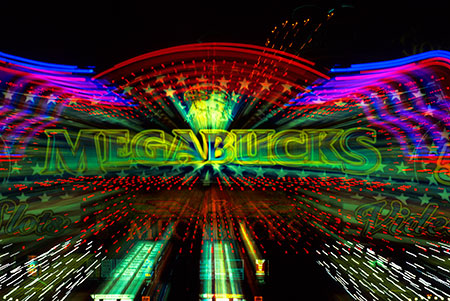 $5,000,000 – On February 1, 1987, in Harrah's Casino in Reno, Nevada, USA, Terry Williams won the first Megabucks jackpot in excess of $5 million.
$4,600,000 on Mirage Opening Day – On November 22, 1989, Steve Wynn opened The Mirage in Las Vegas, Nevada, USA, the first new casino on the Las Vegas Strip in nearly two decades. On opening day, Elmer Sherwin won a $4.6 million Megabucks jackpot. This initiated the myth that big slot machine jackpots follow casino openings. Disappearing behind this myth is Mr. Sherwin's incredible luck at Megabucks 16 years later. On September 19, 2005, he won his second Megabucks jackpot.
$27,000,000 – On November 15, 1998, at Palace Station in Las Vegas, Nevada, USA, a 67-year-old retired flight attendant won the first Megabucks jackpot in excess of $20 million, a total of $27,580,879.60. The same player had previously won $680,000 at a Wheel of Fortune slot machine at the Palace Station.
$34,900,000 – On January 26, 2000, at the Desert Inn in Las Vegas, Nevada, USA, Las Vegas cocktail waitress Cynthia Jay won a Megabucks jackpot of more than $34.9 million. Six weeks later, she was seriously injured (and her sister killed) in an automobile accident. This coincidence has fuelled the myth 'the Megabucks curse'.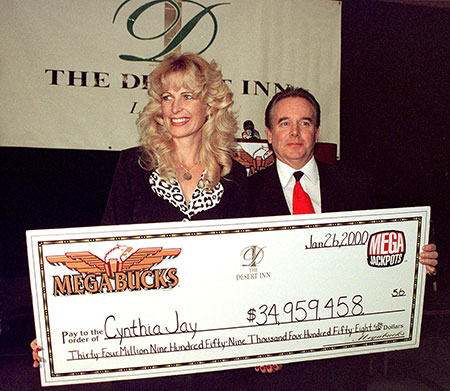 $39,000,000 – On March 21, 2003, a 25-year-old software engineer from Los Angeles won a Megabucks jackpot worth $39,710,826.36 at the Excalibur in Las Vegas, Nevada, USA.
$21,100,000 for second Megabucks jackpot - On September 19, 2005, Elmer Sherwin won his second Megabucks jackpot. (His first, on opening day at the Mirage in 1989, was $4.6 million.) At age 92, Mr. Sherwin hit the jackpot at the Cannery Casino in North Las Vegas for an additional $21.1 million.
Random Slot Machine Facts
Pokies
In Australia and New Zealand, they sometimes refer to slot machines as 'pokies'. This is an abbreviation of 'poker machines' though the term encompasses non-poker machines. Australia is home to approximately .3% of the world's population, but approximately 20% of the world's slot machines.
Fruit Machines
Slot machines are frequently called 'fruit machines'. This originated from the early machines that featured fruit symbols (cherries, oranges, lemons, plums) on the reels. The nickname has expanded to include slot machines generally, especially in UK and Europe. To break the US monopoly on American slot machines by Charles Fey, Herbert Mills of Chicago, USA in 1907 developed a slot machine sufficiently different to receive a separate patent. In addition to mechanical differences, his machine used fruit symbols on the reels instead of the then-customary playing card numbers and suits. During the same era, slot machine owners claimed, when questioned about the legality of the machines, that they dispensed gum. The fruit symbols represented the flavours of gum a player could win.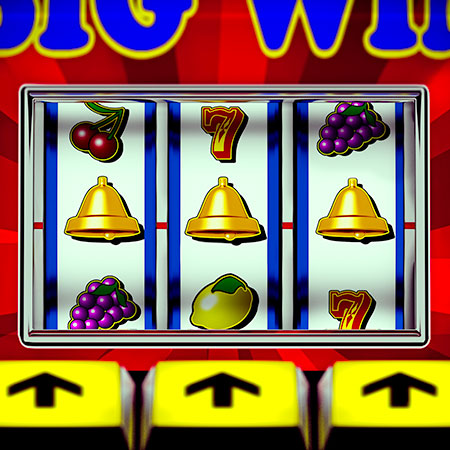 An American Tradition
A Gallup Poll in 1938 found that 23% of Americans played a slot machine. It also revealed that 29% played in church lotteries, 26% played punchboards, 19% bet on elections, 13% purchased sweepstakes tickets, and 10% bet on horse races.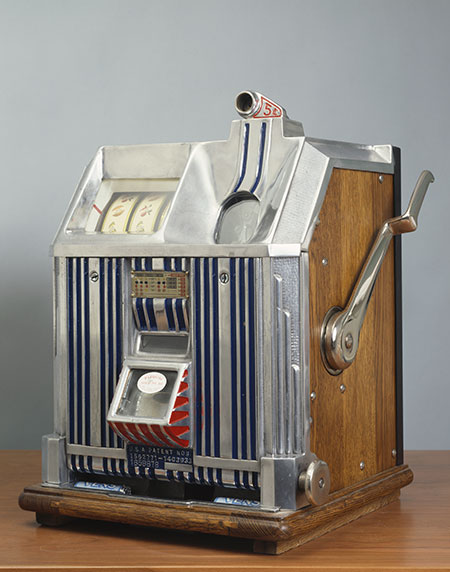 One-Armed Bandit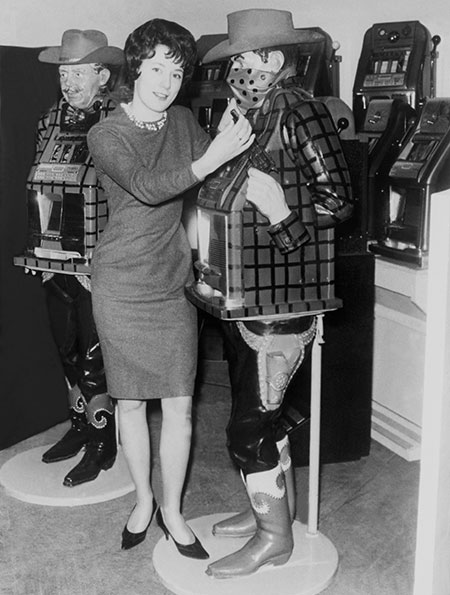 Several people have been given credit for calling slot machines 'one-armed bandits'. According to one version, American bank robbers John Dillinger and Charles "Pretty Boy" Floyd coined the term while playing a slot machine. Dillinger dropped in quarters, commenting 'You sure don't need no gun to rob somebody if you've got one of these things for him to play'. Floyd, pulling the handle, agreed, adding 'And this bandit has only one arm'.
Near Miss
On March 14, 2001, Kirk Tolman pulled the handle on a Megabucks slot machine in Wendover, Nevada, USA and lined up the three Megabucks logos. Unfortunately, he was distracted by a friend and played the machine for just two coins instead of the three coins required to be eligible for the jackpot. He won $10,000, but missed out on the jackpot of $7.96 million.
Two Person Operation
On March 6, 2009, Marie-Helene Jarguel placed €50 into a slot machine at the casino in Palavas-les-Flots in southwestern France. For luck, her friend Francis Sune pressed the button initiating play. After 12 unsuccessful spins, they lined up 7-7-7 and won the casino's Megapot of €2,200,000. After Ms. Jarguel received the payout. Mr. Sune sued her. In December 2009, a court in Montpellier ruled Ms. Jarguel should pay Mr. Sune 20% of the payout. The judges noted there was 'no judicial definition of the winner in a slot machine game'.
Lion's Share
After MGM Grand opened in Las Vegas, Nevada, USA, in December 1993, one if its progressive slot machines was Lion's Share, 50 machines on the property linked to a single jackpot. As the machines aged and were replaced by different slots, the stingy jackpot became a problem for the casino. The jackpot was technically player money, so MGM Grand had to continue offering the machine. Finally, there was only one Lion's Share machine on the floor, and it continued operating only by cannibalizing other machines for parts. In 2012, the machine got its own Facebook page and developed an international following. In early 2014, the Wall Street Journal reported on the machine's stubbornness and cult following. On August 23, 2014, a New Hampshire couple visiting Las Vegas played Lion's Share after reading stories about it online. Walter and Linda Misco hit the jackpot, winning $2.4 million and finally allowing MGM Grand to retire the old-fashioned machine.
Megabucks – Twice
The world's richest slot jackpot is Megabucks, a progressive jackpot linking machines all over Nevada, USA. One player has won two multimillion-dollar Megabucks jackpots. Elmer Sherwin hit a $4.6 million jackpot in November 1989 on opening day at The Mirage. Mr. Sherwin, at age 92, won a second and much larger Megabucks jackpot (over $21.1 million) nearly 16 years later at the Cannery Casino.