Play Millionaires Island at PokerStars Casino
We could all do with a holiday every now and again, so why not set sail to Millionaires Island? There's sun, sea and sand to accompany wild pool parties – not to mention the Mega Progressive Jackpot and a whole heap of bonus features.
If you've ever spent any time thinking about what you would do as a multi-millionaire (and let's face it, you have) then you've probably got a good idea of how you'd spend your time. Maybe you'd get your own treasure island out in the middle of the ocean? Maybe you'd go deep-sea exploring for treasure? Or maybe you'd become a poker pro, and spend your time playing cards?
Millionaires Island is a place where you can do all of those things and more – and at the end of it you just might be able to fulfil your fantasies by winning the Mega Progressive Jackpot.
Millionaires Island: Gameplay
Your vacation begins with a look at a beautiful blue ocean shimmering before the lazily waving palm trees of a tropical island.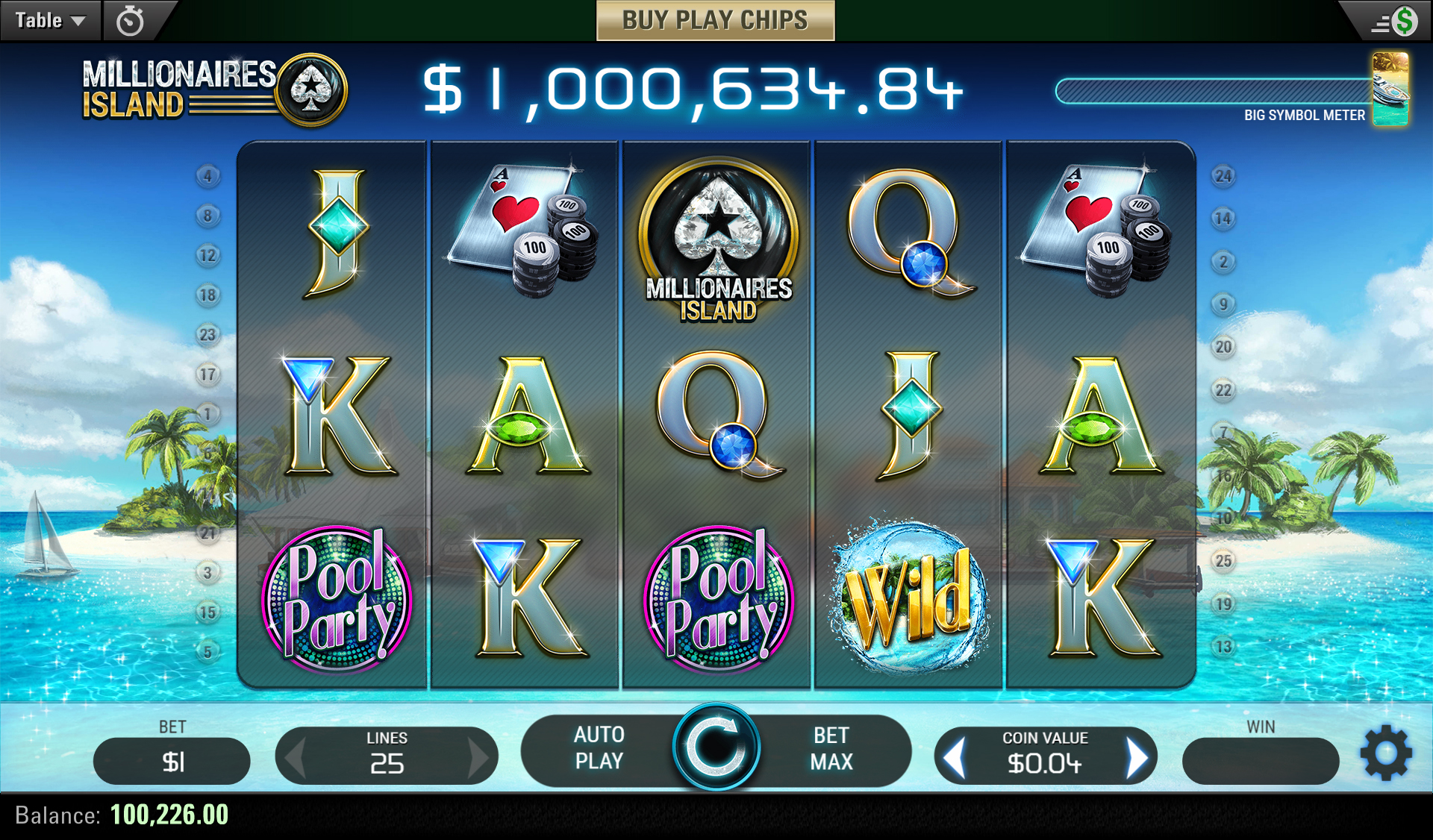 Pleasure-boats and yachts are abundant on the crystal-clear waves and the party music begins – you've arrived on Millionaires Island.
In terms of the basic gameplay, veteran Slots players won't be too surprised by this simple five-reel, 25-payline Slot. The maximum pay-out in the base game is 3,000x your line bet for five wild symbols, but there's a lot more to be won…
Exclusive Features
Time is money, so let's not waste any. We know why you're here: you want to know about the awesome Mega Progressive Jackpot.
Just land five Millionaires Island symbols anywhere on the reels and the Progressive Jackpot prize (at least £1 Million) is yours – instantly. Millionaires Island has lived up to its name and made millionaires of several PokerStars Casino players.
They say you have to spend money to make money, but when you're staying on Millionaires Island that's not necessarily true. Any bet at any stake can trigger the Progressive Jackpot – even if you're using a Free Spins Bonus.
However, you don't need to win a million dollars to have fun playing Millionaires Island; the game has a wealth of bonus features in addition to the Mega Progressive Jackpot.
For example, after every 35 spins you will hit the Big Symbol feature: the luxury yacht or seaplane symbols will double in size on the reels. The feature lasts for five rounds and it can only be activated during the main game. But that's just the beginning…
If you hit three Pool Party scatter symbols on reels one, three and five then you'll trigger the Free Games feature. This will award you between three and seven free games at your current stake, with a random wild feature that adds up to five wild symbols to the reels on each spin.
Want more? Then dive in to the Submarine Bonus Round, triggered when three or more Bonus symbols appear on reels one, three and five.
Here, you must select the level of risk you're happy with, ranging from Low, Medium and High Risk.
These three risk modes award up to ten picks for each with different multipliers: Low earns up to 10x, Medium earns up to 30x, and High earns you up to 500x per pick.
Once you've chosen your risk level, choose one item out of three to reveal the prize. Wins in this round are added to your payline wins in the main game. Note that the Submarine Bonus cannot be triggered during the Free Games feature.
Finally, you need to watch out for sharks in the waters of Millionaires Island – card sharks, that is.
Activated when an ace card symbol appears in the centre reel position, the Card Bonus can result in a quick and easy win. You'll be prompted to pick two cards to win a poker hand in an exciting, neon-tinged mini-game. All prizes are multiplied by your total bet.
How Much Can You Win?
The Mega Progressive Jackpot is seeded at £1,000,000 and converted into USD at the most recent exchange rate. The Progressive Jackpot is funded by player bets with 2.2% of each bet contributing to the prize; there is no ceiling on the Progressive Jackpot.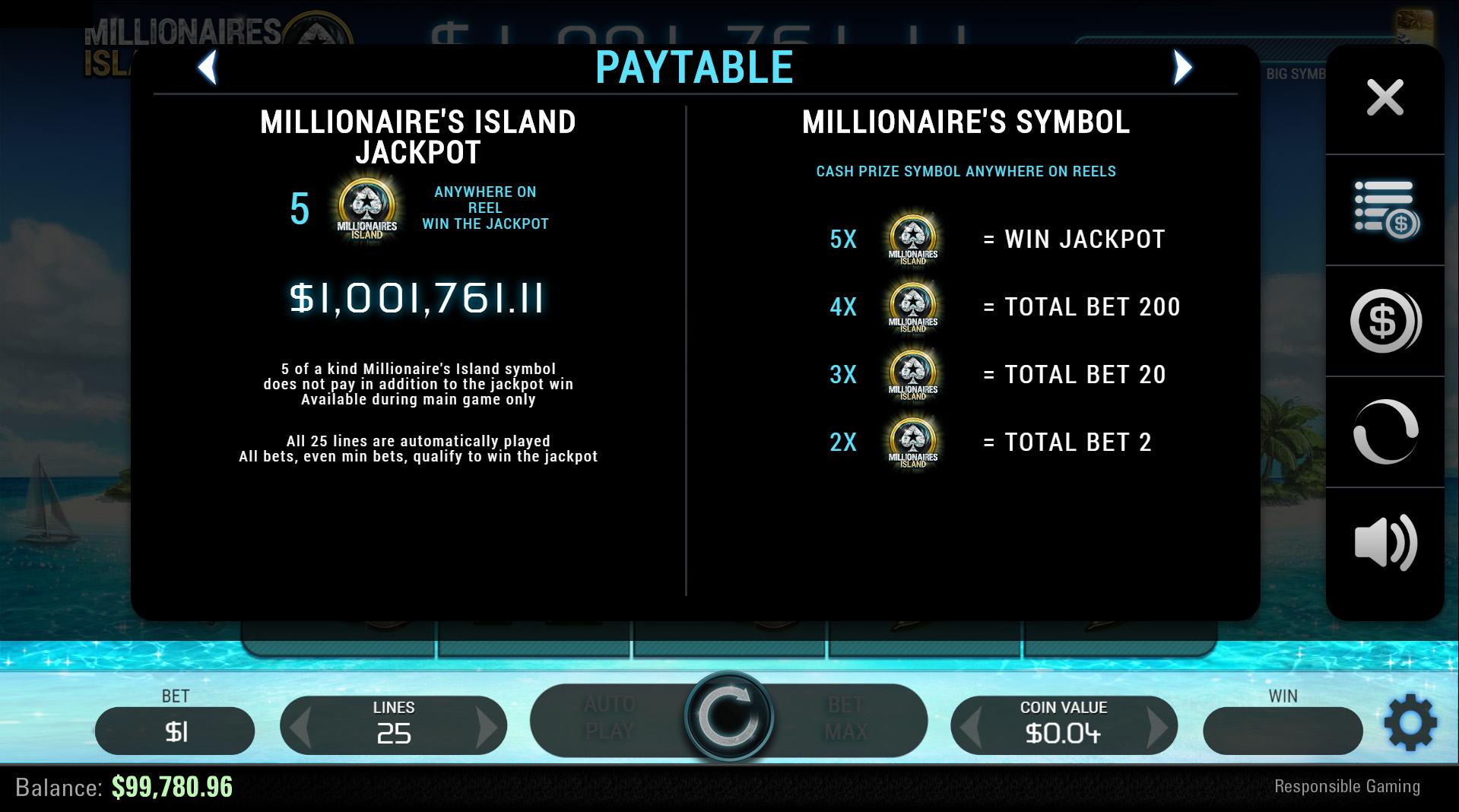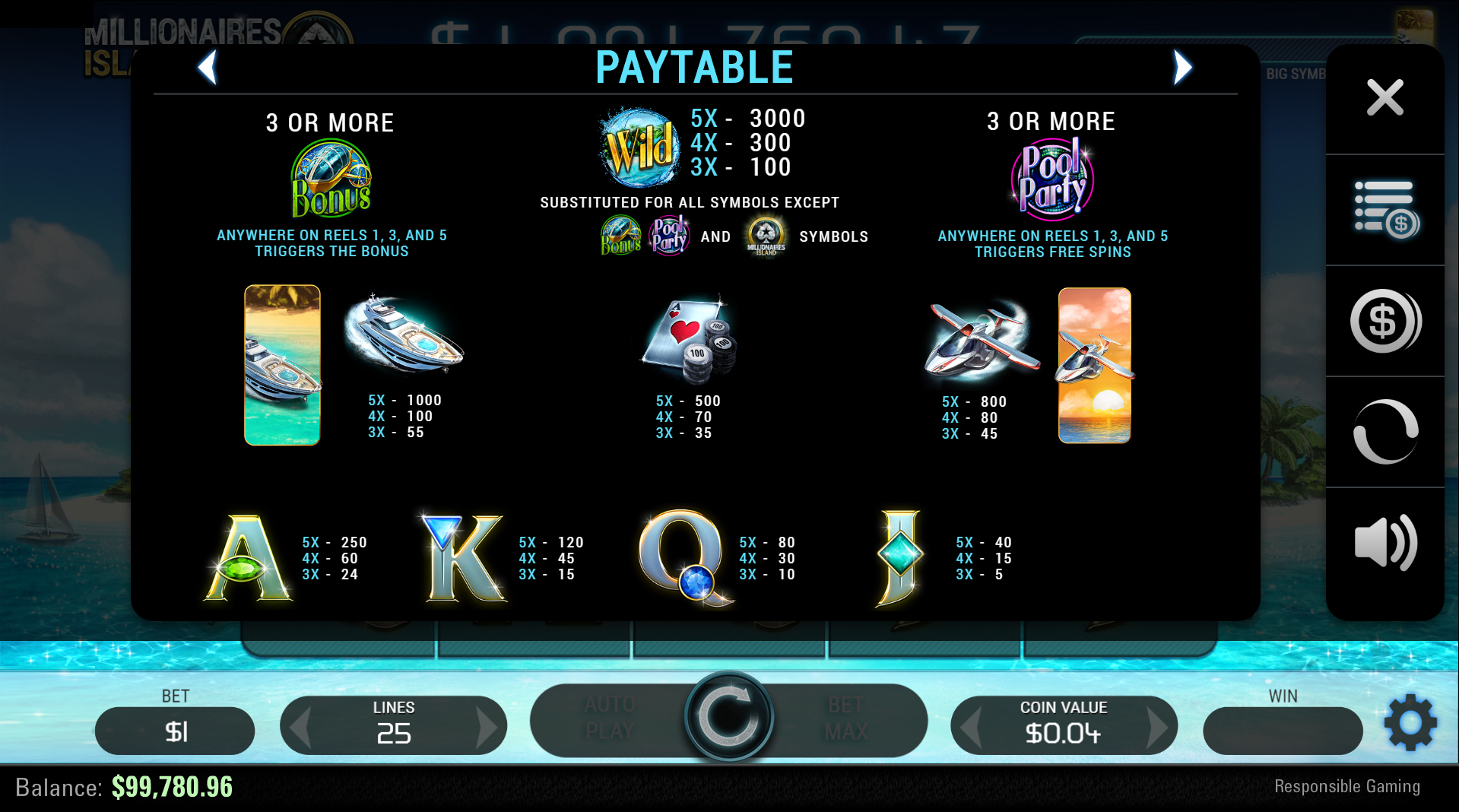 The Return to Player (RTP) for Millionaires Island is 96.57%.
Overall Opinions: Who Should Play Millionaires Island?
If you've ever dreamed of joining the jet-setting elite, perhaps having your own private island for fun in the sun, then this game will certainly appeal. Millionaires Island is a sensational, sun-drenched Slot with the opportunity to win a fortune.
Even for those with their head firmly outside of the clouds, Millionaires Island is well worth a spin. The mellow music and tranquil, tropical atmosphere makes it a great game for relaxation – just like a sun-kissed island should be!
If you're ready to take advantage of Slot with many bonus features and the chance to bag a huge win, then set sail to Millionaires Island today.
Millionaires Island: Progressive Jackpot Details & Rules
Win condition (the result you have to achieve to win the Jackpot): The Jackpot is awarded when five Millionaires Island symbols appear anywhere on the reels.
Five-of-a-kind Millionaires Island symbols does not pay in addition to the Jackpot win.
Available during the main game only.
All 25 paylines are automatically played.
Win requirements (what you need to do to win the Jackpot): Play the Millionaires Island Slot.
All bets, even minimum bets qualify to win the Jackpot. Every spin and every amount can guarantee access to the Jackpot.
The higher the bet the higher the proportional probability of winning the Jackpot. The bigger the bet, the better the chances of winning.
All symbols pay left to right (Reel 1-5) only in consecutive order, including the scatter.
Starting base fixed prize of part of the Jackpot: The amount the Jackpot starts at is 1,000,000.00 GBP.
This game displays the prize value in the player's session currency, as this is the base prize value.
Every time the Jackpot is awarded, the pot is reset to the base prize value.
Progressive part each bet received is added to the pot: 2.2%.
This Jackpot does not have a ceiling value, so it will grow until it is awarded.
If two players win the Jackpot one after another, the first will win the Jackpot for its value at that time, the second player wins the minimum value of the Progressive Jackpot and the portion accumulated during the time between the first and second player winning the Jackpot.
Click here for general Terms & Conditions. Please contact Support if you have any questions.