Gonzo's Quest Slot: Play at PokerStars Casino

Gonzalo Pizarro is not a household name (unless the household is full of history buffs) but Gonzo's Quest is probably the most popular and innovative online Slot every created. Gonzo's Quest is a five-reel, 20-payline Slot machine that has been entertaining players since 2010.
At PokerStars Casino you can play Gonzo's Quest online – not just on your computer but also on the go, enjoying the high-quality graphics and unique gameplay of this award-winning Slot on your iPhone, iPad or Android device.
Gonzo's Quest Slot Machine: Gameplay
When you play Gonzo's Quest you are immediately on a conquistador crusade of your own, taken back in time to an era when the world was totally different. In this time, armies of brave men would embark on thrilling and dangerous adventures to discover unknown territories and bring home terrific treasures.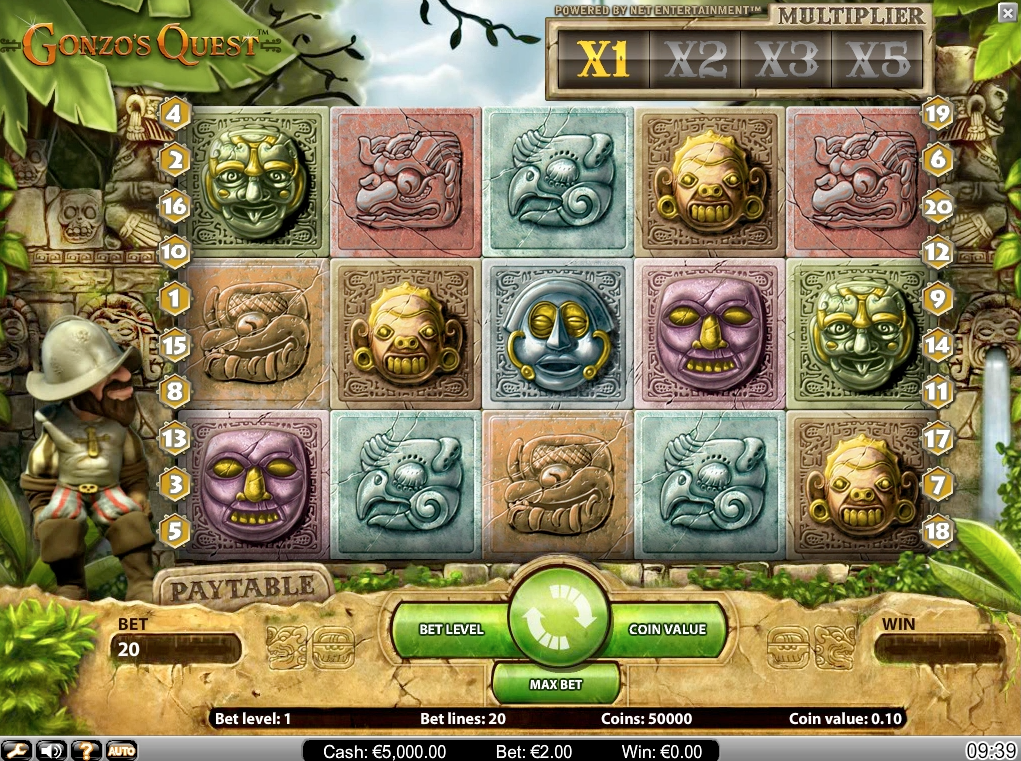 This was a world where instinct was your only GPS and bravery the only virtue you needed to make history.
Join Gonzalo "Gonzo" Pizarro, the Spanish conquistador, on his exciting quest to find the legendary El Dorado – the fabled Lost City of Gold.
From the first moment the reels begin spinning, you'll be setting off on a once-in-a-lifetime adventure to help Gonzo locate the City of Gold and all the incredible riches that are hiding deep in the heart of the Amazon rainforest.
The game's design aesthetic instantly pulls you in to this untamed American wilderness with ancient Aztec pyramids and Mayan-styled symbols. While this unconquered jungle is not for the faint of heart, Gonzo will be with you each and every step of the way.
Design aside, the biggest standout feature of this online Slot is the Avalanche Reels feature, a concept that game developers have used to totally rethink their approach to Slots.
Rather than playing on the usual spinning reels, in the Gonzo's Quest Slot the Mayan symbols are carved into stone and crumble on your screen, turning into dust every time a winning line is formed.
Each time this happens, the winning symbols are replaced by new blocks that fall from the top of the screen to fill all the empty spaces – like a free partial Re-Spin.
As you can see, it's just like block-bursting games such as the ever-popular Tetris: each time you hit a win, the old blocks disappear to make way for new ones, all without you ever needing to make another wager or hit the 'spin' button again.
Sounds fun, right? Well it gets better: whenever a winning line is formed you get the opportunity to increase the size of your wins; all the subsequent wins coming from that same spin come with a multiplier ranging from 2x all the way up to 5x.
In other words, while the first winning combination triggers a 1x multiplier, the next one triggers a 2x one, the third consecutive win activates a 3x multiplier, and the fourth gets you a 5x multiplier.
Most online Slots players think that this is the most exciting feature of Gonzo's Quest. We agree. The Avalanche feature is one of the best innovations that has appeared in the world of Slot machines for years.
Now, to the technical stuff: Gonzo's Quest features five reels set in three rows, as well as 20 paylines.
The paylines are fixed, so you cannot customize them and choose to play on a lower number of active lines.
However, you always have the ability to change the value of the coin you use in the game as well as the bet levels of each spin – so you can play Gonzo's Quest while keeping to your personal bankroll strategy.
Exclusive Features
Like the majority of the most popular video Slots, the Gonzo's Quest Slot machine features a wild symbol that can assist you in creating winning combinations as you make your way to El Dorado.
The wild – a special tile featuring a big question mark – can substitute in payline wins for all symbols featured in the game, except for the scatter.
You can land the wild symbol both in your initial spin or once a winning combination triggers the Avalanche feature.
The wild can also expand to cover an entire reel and remain in place for up to three re-spins, considerably increasing your chances to hit additional winning combinations.
So this Slot has a wild symbol, but does it have a scatter? Just a little bit!
The scatter symbol in Gonzo's Quest is a gold medallion featuring a Mayan tribal mask. It is also called the Free Fall symbol, as it triggers the game's premier bonus feature: Free Falls.
Whenever you land three or more scatters on one payline you will trigger this bonus feature and receive 10 Free Falls. They're similar to Free Spins, but so much more.
Free Falls in Gonzo's Quest take the Free Spins features found in most online Slots and dial them up to 11.
Not only will the Avalanche multiplier apply to the bonus round, but it increases during the feature, going up from 3x to 6x to 9x to 15x – meaning your winnings could potentially be multiplied by a whopping 15x by the end.
On top of that, additional Free Falls can be triggered if you repeat the feat of landing three scatters on a single payline during the bonus.
How Much Can You Win?
Gonzo's Quest doesn't have a Progressive Jackpot, so the riches of the Lost City of Gold are exactly those described in the game's paytable.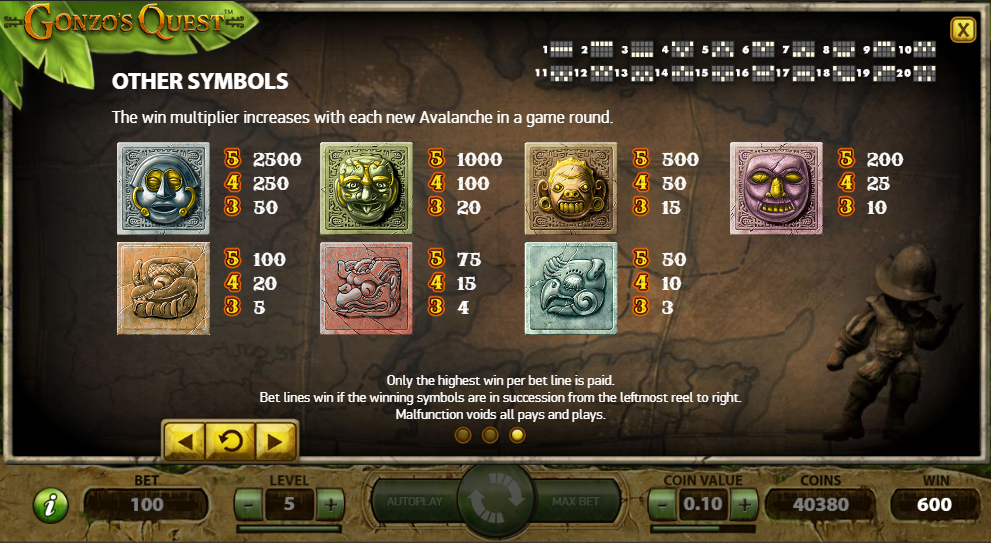 As you can see, regular spins can net you anywhere from three coins to 2,500 on any given spin at Bet Level 1. Of course, Free Falls and multipliers can help you on your way to the biggest wins.
In short, a line win in coins is equal to the value shown in the paytable multiplied by the stake level – plus any additional multipliers.
Gonzo's Quest's Return to Player (RTP) is 95.97%.
Who Should Play the Gonzo's Quest Slot Machine?
As soon as the Gonzo's Quest Slot machine came out in 2010, it became clear to everyone that NetEnt had added yet another blockbuster game to their already impressive collection.
Almost a decade later, Gonzo's Quest is still one of the industry's favorites. The Avalanche multipliers, the Free Fall bonus, and the stunning animations make this game a must-play for all those who like to have more than just spinning reels marking their Slots experience.
If you like games with an exciting storyline and you are on the lookout for something that will constantly make you wonder "what's next" – Gonzo's Quest is the Slot machine for you.
Click here for general Terms & Conditions. Please contact Support if you have any questions.