Fruit Shop Slots: Play the Fruit Shop Slot Machine at PokerStars Casino!

Like to keep it simple? Fruit Shop is the game for you – but don't be fooled by how minimalist this Slot is; it's an extremely exciting experience!
Launched in 2011, this Slot machine game captures the fun of traditional fruit Slots and brings it to new heights.
Designed to appeal to both the longtime fruit Slots aficionados that are used to playing at brick-and-mortar Casinos, as well as the online players who like colorful gameplay and vivid graphics, NetEnt's Fruit Shop video Slot is one of the most popular games of its kind.
Don't believe us? If you're up for some fruity fun and want to play one of the best fruit Slots available on the market today, open an account on this page and let the reels do the talking!
The game is available to play on both your desktop client, via web and on mobile devices running iOS and Android.
Fruit Shop Slots: Gameplay
Not everyone loves the complexity of today's video Slots.
With most developers being continuously on the lookout for new features to add to their products and bonus-triggered mini-games becoming the norm, it's not easy to find a good, simple and fun fruit Slot machine to play online.
That's where Fruit Shop comes in. Fruit Shop is a colorful and fun-packed Slot machine that features five reels and 15 paylines.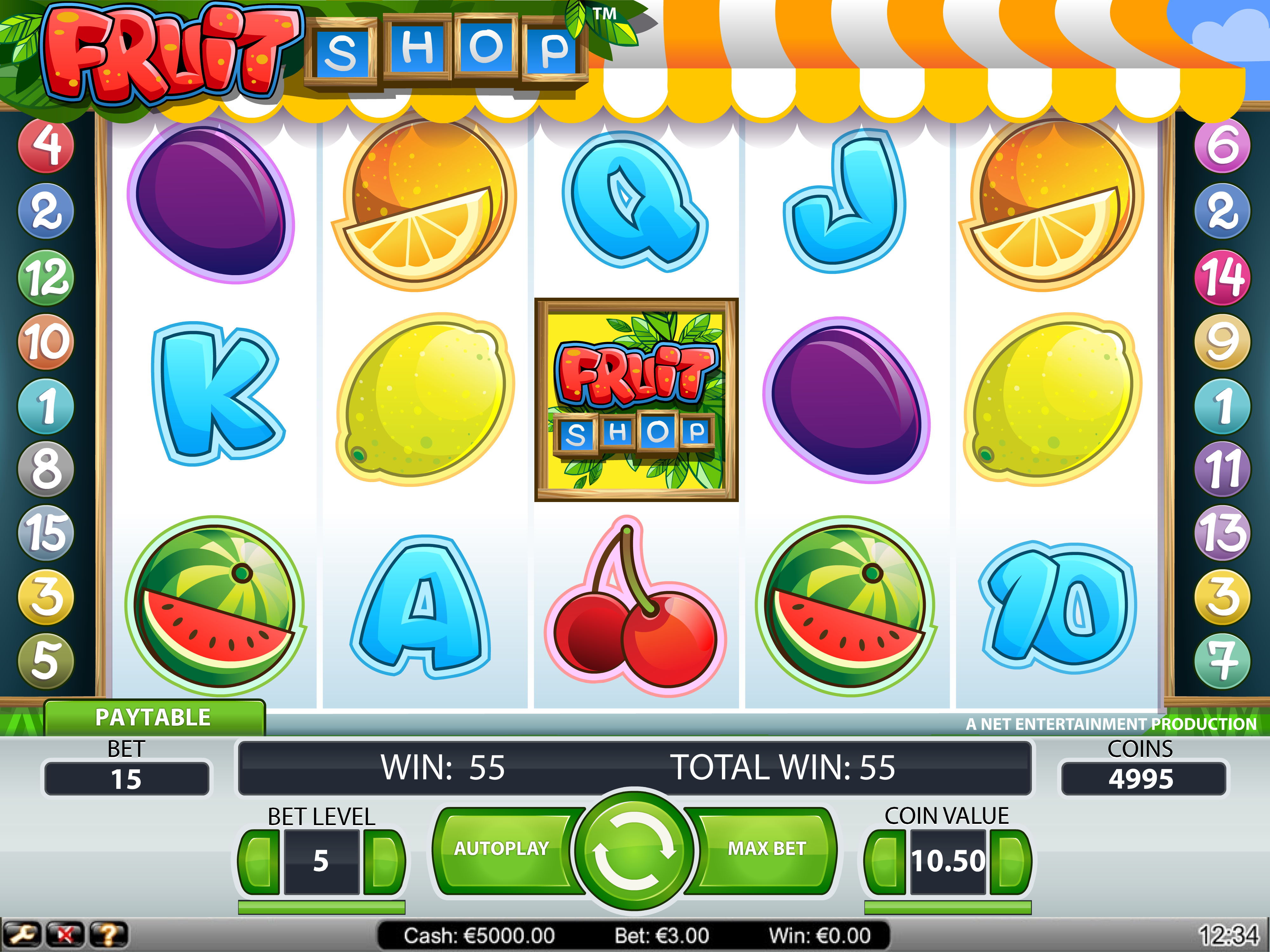 While the game plays on a fixed number of paylines, you can change the size of your bets (and of your potential wins) by adjusting the betting levels and coins you use to play.
With 15 betting levels and seven coin values to choose from, Fruit Shop is the perfect game for both the casual player who plays for fun and also for the high roller who enjoys larger bets.
Once you've decided how much you want to wager on each spin, it's time to get to the actual gameplay.
Fortunately, that's easy as pie. Easy as fruit pie, in fact. You will rarely find a simpler Slot than Fruit Shop. The moment you launch the game, this Slot machine requires you to do nothing more than to choose your bet and spin the reels.
The game's excellent graphics and reels of crisp symbols featuring lemons, cherries, watermelons, oranges, and plums are all you need – there are no unexpected animations coming to interrupt your play here.
This simplicity is what makes Fruit Shop truly stand out from the competition.
No decisions about paylines, no extra reels to worry about activating, no complicated bonus features to base a strategy around. As a matter of fact, this distraction-free Slots experience is exemplified by the lack of background music playing – that is, until you activate your first round of free spins.
Exclusive Features
The no-frills approach to Slots that NetEnt had in mind when their creative team developed the Fruit Shop video Slot machine is clear. The Free Spins bonus feature is the sole bonus of this game, and even that has a super-simple bent to it.
As opposed to many Slot games that you can play at online casinos, Fruit Shop doesn't have a scatter symbol. So how do you hit those free spins?
Fruit Shop's Free Spins bonus feature is activated by the fruit symbols. It doesn't take a genius to realize that with so many fruit symbols filling the reels, you're in for a lot of Fruit Shop Free Spins!
Remember, though, that not every fruit is created equal in this game.
Traditionally, the cherry symbol is the most valuable fruit in a Slot machine and Fruit Shop is no exception. You need only land two cherries on a payline to activate one free spin.
Obviously, the more cherries you hit at the same time, the more spins you activate: three, four, or five cherries on a payline earns you one, two, and five free spins respectively.
Lemons, oranges, plums, and watermelons will also generate free spins. Three of each fruit on a payline will activate one free spin; four activates two free spins; and five activates five free spins.
The best part of the Fruit Shop free spins feature is that you have always the opportunity to re-trigger additional free spins as long as you hit a qualifying combination during a free spins round. Doing that isn't particularly hard, either – you can't move for fruit symbols here!
Additional free spins are triggered not only by the fruit symbols, but also by the others featured in the game (A, K, J, 10). Essentially, it's pretty close to impossible to play Fruit Shop for any length of time and not rack up a whole crate of free spins.
Oh, and there's more: a 2x multiplier applies to all the wins you collect during a free spins round. Talk about a tasty feature!
On top of that, the Fruit Shop wild symbol delivers your recommended daily dose of vitamin win each time it lands on the reels.
The wild symbol appears only on the three center reels, but whenever it substitutes for another symbol in a payline win it brings with it a 2x multiplier.
This already-tasty multiplier becomes a doubly delicious 4x one when the wild is part of a payline win during a free spins round.
How Much Can You Win?
As the game's official paytable shows, Fruit Shop wins range from a minimum of five coins to a maximum of 2,000.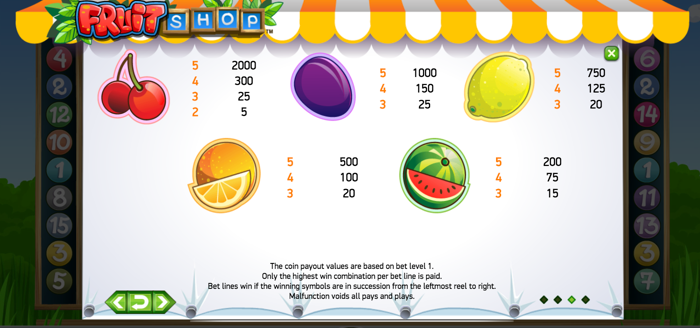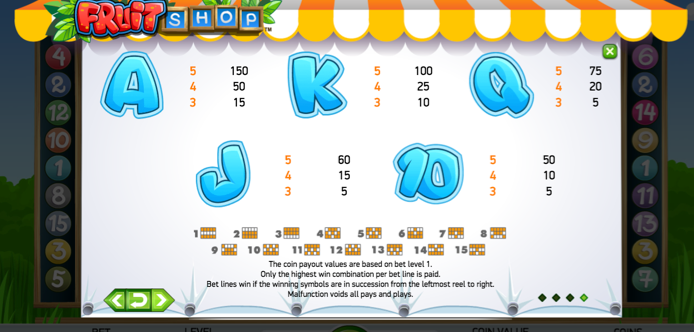 The simplicity of this fruit Slot game is reflected by its payout structure, as Fruit Shop features no Progressive Jackpot – when it comes to this paytable, what you see is what you get.
Fruit Shop's Return to Player (RTP) is 96.71%.
Overall Opinions: Who Should Play the Fruit Shop Slot Machine?
Fruit Shop is the perfect game for those players who like to play Slots or fruit machines at brick-and-mortar Casinos.
Rather than focusing on immersive experiences, fancy animations, or Easter eggs to discover as you play, Fruit Shop is a modern version of the fruit Slots that Casino players are used to when they play offline.
If you are looking for a fast-paced online Slots game with colorful symbols, lots of free spins rounds, and a new approach to a classic Slots theme like the fruit one then Fruit Shop is definitely the right game for you.
Click here for general Terms & Conditions. Please contact Support if you have any questions.